People want to know how to get verified on Instagram because Instagram's "Blue Badge" is the ultimate social media trust and status symbol.
Most want the blue checkmark to take advantage of the exclusive benefits and financial rewards shared by Christiano Ronaldo, Dwayne Johnson, Ariana Grande, Taylor Swift, Nike, and other notable brands.
Getting Instagram verified is not easy, but it is neither impossible nor out of reach if you have the right know-how. Keep reading to learn how to get your blue checkmark.
Recommended: Get your blue check using SiteTrail's Instagram Verification Service.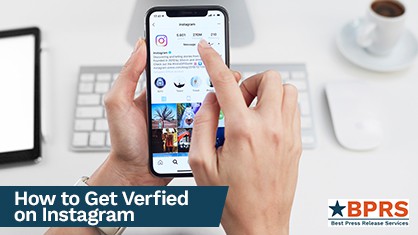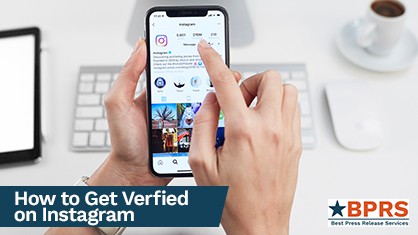 ---
PRESS RELEASE GUIDE:
---
What Is Instagram Verification?
Instagram verification is designed to let users know which Instagram accounts are real. This functionality has now been extended to small and large businesses as well as individual users. For instance, if someone searches Sunglass Hut on Instagram, a number of relevant results will come up, most of which are fake accounts. Real accounts though are marked by a blue checkmark. This is a blue badge that indicates the profile is owned by a real person or registered business.
So, how does this work? Businesses and individuals can apply for verification on Instagram by meeting certain requirements and following a series of steps to get their blue check. This is known as "getting verified" and with being verified come many rewards.
Benefits of Instagram Verification
The benefits of Instagram verification are many. Firstly, by becoming verified on Instagram, you are joining an exclusive membership circle that only 1% of Instagram users share. Arguably the exclusivity alone is enough reason to want to get verified, but there are other benefits worth noting.
Benefits of verification:
More shares, followers, likes, and sales. This means that the content you post has a better chance of being shared and liked, which will result in an increase in your following and hence, an increase in sales.
Exclusive access to users. Once you become a verified user, you will be elevated to a special spot in the system. This will make it easier for you to connect with new customers. The verification used to be exclusively for celebrities, political leaders, etc., but now anyone meeting Instagram's verification criteria can get their account verified.
Higher engagement. Now that everyone can have their account verified, it means that there is a much higher engagement rate among users. With a high engagement rate, users are more likely to recommend your content to their friends, which is likely to result in an increase in your following and hence, an increase in sales.
Credibility. As you have the option to provide a brief description in your profile, you can prove your legitimacy by including a real person photo in your profile. The account you provide will be considered an authentic one as you have already shown a photo of yourself. This photo will not only give you more chances to build trust among your followers but will also prove to them that you are the real account holder.
SEO Optimization. Verified accounts rank higher on Instagram, Google, and other search engines to increase the visibility of your brand to get you more traffic and followers from search results.
Unique presence. By being substantiated on Instagram you join an elite membership creating a unique presence around your brand.
Instagram Verification Eligibility Requirements
You can apply now to get verified at no cost. There are only certain criteria you must meet before you submit a verification request for your blue checkmark.
Authentic: You are a real person, registered business, or brand.
Unique: You have one account per person or business, save for language-specific accounts.
Public: Private accounts do not qualify for verification.
Complete: You have a complete bio, profile photo, and a minimum of one post.
Notable: You and/or your brand are "well-known" and "highly searched for online.
Keep In Mind: Instagram will remove the blue badge from your Instagram account if you receive it using misleading or false information. In most cases, they will penalize your account through disablement.
Important Note: Your account must meet these minimum requirements for you to be considered for verification. Once you meet these requirements you are ready to submit a formal application with Instagram to request verification for your business brand or personal brand.
How to Get Verified on Instagram
Before you follow these steps to learn how to get verified on Instagram we advise you to make sure you are in compliance with Instagram's Terms of Service and Community Guidelines. Also make sure you have fulfilled Instagram's account verification criteria; namely, that your brand is authentic, unique, public, complete, and notable.
If you feel ready to get your blue checkmark (verification badge), then follow the instructions below.
Steps to Get Verified on Instagram
Using either the Instagram Android app or iPhone app or Instagram Lite App for Android:
Make sure you are logged into the right Instagram account
Go to your profile picture to see your profile
Tap the three stacked bars (hamburger icon) in the upper right corner of your profile screen
Select "Settings"
Select "Account"
Select "Request Verification"
Complete the verification form
Type your legal name
If it applies, type your "known as" or working name
Pick your category or industry
Submit a government-issued ID or business utility bill
Tap "Send" and wait for approval
Recommended: SiteTrail has helped a lot of Instagram users get approved.
How Long Does it Take to Get Verified on Instagram
Instagram's verification process takes up to 30-days. This is because Instagram uses real humans to determine eligibility and ultimately decide if your account is worthy of a blue check or not.
Instagram Insider Information for Getting Verified
We reached out to Instagram and learned some secret insider information behind getting verified on Instagram.
Instagram Insider Information:
There are no guarantees you will be approved for verification, regardless if you're qualified.
The more times you apply does not influence Instagram's decision to bestow upon you the blue checkmark.
You won't get a blue check if you apply again before receiving Instagram's decision.
You can't transfer your verification to a new account.
You can't change your username once verified. This is true of all verified accounts.
Facebook verification does not guarantee verification on Instagram.
Instagram will take away your blue check and disable your account if you lie on your application.
Being listed on multiple news sources helps your chances of getting a verified account.
Paid or promotional news content (advertorials, etc.) will not help you get a verified account. This applies to a person or business entity.
The number of followers you have on Instagram helps your chances of getting verified.
It helps to link to your Instagram account from your website and other social media accounts.
Language specific accounts are the only exception made for multiple accounts.
Getting verified on Instagram is influenced by your account's association with other verified accounts.
Your driver's license or government issued ID picture must represent your profile picture for personal accounts, though it is less important for public figures, and does not apply to businesses.
If you want to join other verified accounts don't friend or follow fake accounts or imposture accounts.
Tips for Getting Verified on Instagram
Improve your chances of earning a Instagram verification badge by doing the following:
Be a regular Instagram user.
Have a huge number of followers on Instagram.
Delete any cross-platform "add me" links.
Delete paid or promotional content.
Get featured in multiple news sources.
Keep your Instagram account public.
Never buy Instagram followers.
Have a complete bio, picture, and at least one post.
Be verified on other platforms.
Have just one Instagram profile (your account must be public).
Make sure you have links to other social media sites.
Make sure your profile picture is a true representation of your brand.
Model a brand or entity or public figure that has the blue check.
Make sure you have some fan accounts that are verified.
Rank in the search results (Google, Bing, etc.).
Take advantage of your Facebook page followers.
Make sure your account is a registered business or entity or a real person.
Make sure you have at least one post, preferably more
Final Thoughts
Take advantage of this knowledge and cover every base to ensure you meet Instagram's requirements. If you have lots of followers and happen to be a public figure, you may want to go with an agency to help you get approved.
The best solution we've found doing our research is Instagram verification service companies like SiteTrail. They cost a tiny fraction of what an agency charges and offer a much better return on investment. Why pay more, right?
Recommended: SiteTrail's Instagram Verification Service has a proven track record of getting individuals and businesses Instagram verified.
Frequently Asked Questions
Do I have to be famous to qualify for Instagram verification?
You don't have to be famous, but you do have to be well-known and searched out according to Instagram. You should also have an abundance of followers. This applies regardless if you're a business or social media influencer.
Do I have to pay to get verified on Instagram?
Building a solid brand costs money and time, but Instagram does not charge you for the blue check badge. Applying badge is free. Qualifying for an Instagram verification badge is likely to cost you money indirectly though.
Do I have to be an influencer to qualify for verification?
The term "influencer" has become more prominent in the last several years on social media platforms. Tips to help you become a social influencer are posted all over the internet. That said, you only need to be a notable brand, well recognized authentic brand to qualify.
Can anyone get verified on Instagram?
No. Only one percent of Instagram accounts are currently verified. Most accounts do not qualify and for the badge; rather they don't have enough followers, never put in their request, don't follow Instagram's terms of service or community guidelines, or don't qualify for the badge for some other reason.
How much does it cost to get verified on Instagram?
You can apply for free. Becoming well-known may cost a fortune. So the indirect costs can be substantial, which is why we recommend a service like SiteTrail.
Can I get verified on Instagram if I have a blue check on Twitter?
Depends. Having a badge on one social media site doesn't apply to others. Before you put in a request on one platform make sure you know that platform's requirements. Your Twitter account will have different badge requirements than Instagram.
Do I need an agency?
Every Instagram account is verified by a real human for consideration for an Instagram verified badge. Most people cannot afford to pay an agency to help them get their Instagram account approved for a verified badge.
A good alternative to using a publicist is to use a service like SiteTrail. Not free, yet not expensive, SiteTrail's service is definitely worth it once your account is approved. An approved account instantly increases the value of your brand once you have your verified badge.
What if I don't have a driver's license?
If you don't have a driver's license you can still request verification. You can use a passport or if you're a business you'll need certain business documentation.
What if I don't have many followers on my Instagram account?
The more followers you have on Instagram the better your chances for qualifying. If you don't have many followers it probably means you're not well-known and so you probably do not qualify for the badge at this time. You may want to hold off on putting in your request until you have more followers.
What if my account doesn't represent a real person?
You must be a real person, business, or entity to qualify for a blue Instagram badge. We don't recommend putting in your request if you aren't real. Fake and imposture accounts will not be approved.
Does my Instagram profile need to be complete?
Before you make your request, you must have a complete bio, a profile that has a picture, and a minimum of one post.
How many followers do I need to get verified on Instagram?
There is a correlation between the amount of money influencers earn, posting on Instagram, and how many followers they have. For example, Dwayne Johnson, "The Rock" has around 187,300,000 followers and Kylie Jenner has closer to 181,500,000 followers. Dwayne earns approximately $1,015,000 per post, whereas Kylie earns approximately $986,000 per post.
Though we don't have a specific number we can give, we can say that the more followers you have the more valuable you are to Instagram. It only makes sense that the more followers you have the more likely your chances of being approved.
Related Articles
Best Press Release Distribution Services