Looking for the best press release distribution service for your business? Find out whether CISION PRWeb or Business Wire is the best option.
Discover how they measure up in this side-by-side comparison review as we look at pricing, ease of use, features, and their customer services.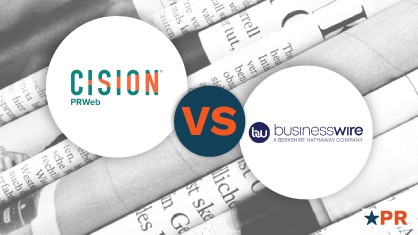 ---
BEST PRESS RELEASE SERVICE: eRELEASES
We recommend eReleases because they offer affordable, high-quality press release services tailored to entrepreneurs. Click below to save 30% on your press release today.
---
CISION PRWeb vs. Business Wire: Which is Better?
Before we dig into this review, let's first outline which is the better overall deal.
CISION PRWeb charges $99 for its basic package which allows you to increase your visibility by having a press release permanently hosted on PRWeb.com. This basic package is limited; however, CISION PRWeb's more premium packages include features like syndication across hundreds of media partners, social media support, and emailing your release directly to industry-specific influencers.
Business Wire's basic package starting estimate is around $475, and this price changes based on what you need from your release. Business Wire excels at distributions for print media such as newspapers and journals. However, we recommend CISION PRWeb (the winner) to get more features and choose the PR distribution system with lower pricing for the best level of service.
If you want the best press release distribution, including postings on Twitter feeds and influential blogs, visit CISION PRWeb.
If you want to access a wide global distribution network that includes the Associated Press, Reuters, and Bloomberg, visit Business Wire.
To view all the PR services we've reviewed, check out our Best Press Release Distribution Services of 2021 and find the right press release distribution for your business's specific needs.
What Do CISION PRWeb and Business Wire Have in Common?
By all accounts, both CISION PRWeb and Business Wire have quite a bit in common.
Here is a list of some of their commonalities:
Price: Both have add-ons to their basic price, such as additional costs for multimedia inclusion (embedded video).
Ease of Use: CISION PRWeb and Business Wire both have a user-friendly system, making it a simple process to distribute a press release.
Features: Both companies offer additional services. These include distribution to journalists, news outlets, and industry-specific/targeted lists.
Customer Service: Both CISION PRWeb and Business Wire have a customer support network that can answer difficult questions and walk you through the process of distributing your press release.
Side-by-Side Comparison
CISION PRWeb: Prices
Basic – $99
Standard – $189
Advanced – $289
Premium – $389
Business Wire: Prices
Local – $475
Regional – $510
National – $940
CISION PRWeb: Ease of Use
Visit the CISION PRWeb website
Click on "Create a Free Account & Get Started"
Select a package
Check out
Business Wire: Ease of Use
Visit the Business Wire website
Click on "Submit a Press Release"
Create an account by filling out the contact form
Click "Set up my account"
CISION PRWeb Features
Basic — This package gets you permanent hosting of a single press release on the PRWeb website to increase web visibility on Google, Bing, and other search engines.

Standard — This package offers the ability to syndicate a press release on hundreds of media platforms and permanent hosting of a single press release on the PRWeb website.

Advanced — With this package, you can email your press release directly to industry-focused influencers, permanent hosting of a single press release on the PRWeb website, and syndicate a press release on hundreds of media platforms.

Premium— The Premium package allows you to distribute your press release to industry-curated Twitter feeds and influential blogger networks, email your press release directly to industry-focused influencers, permanent hosting of a single press release on the PRWeb website, and syndicate a press release on hundreds of media platforms.
Business Wire Features
Local — Distribution to city, metro, and state-level news outlets. All packages receive the ability to submit and distribute a press release 24/7 with around-the-clock editorial services. NewsTrak Reports offer insight into audience metrics and PR analytics.

Regional — Distribution to news outlets in any region of the US.

National — Nationwide distribution to Business Wire's news outlet services.
Customer Service
Both CISION PRWeb and Business Wire exhibited responsive and excellent customer service when we reached out to them.
CISION PRWeb
CISION PRWeb offers phone support and email support.
To reach them by phone, call 1-877-297-8912.
To reach them by email, visit the PRWeb website and click on "Contact Us." From there, fill out the attached contact submission form.
Business Wire
Business Wire also offers phone support and online support.
To reach them by phone, call them at 1-888-381-9473.
To reach them online, you can either email the company at info@businesswire.com, or you can use the contact form on the website by selecting "Contact Us" in the home page's "About Us" menu.
Customer Reviews
Here are some customer reviews for CISION PRWeb and Business Wire from trustworthy third-party online review sites.
CISION PRWeb
Listed below are some legitimate reviews from the Trustpilot website written by customers who have used CISION PRWeb to help spread the news about their business:
"I recently had to write a Press Release for our small company. PRweb rocked it! Not only did their resources help me get my thoughts together but they also reviewed it before posting. They caught a stupid typo!!!I just wanted to say they made me, and ultimately our company, look good."
"If you need someone for your publicity online then this is the go to place. Their services are a little costlier but these guys are amazing. They write amazing stuff for your sites and post on reputed media websites. These guys do an awesome PR job but their services are a bit costly for sure.Add a nice spin to your biz"
"I am satisfied with their service. Customer support is good."
Business Wire
Listed below are some legitimate reviews pulled from G2 and TrustRadius written by customers who have used Business Wire to help spread the news about their business:
"Their support and account teams are also incredibly responsive and quick to help out with any requests or problems. That said, there is a large amount of value for certain clients (especially public companies) to send press releases out on the wire, and I used it on a subscription basis for one particular client. Quite expensive but it's worth it if you are looking for maximum ROI from issuing a press release."
"Our entire company has access to a Business Wire account that they can use to send press releases out on behalf of our clients. We mostly use it in the finance group, as it is a business wire service rather than a more general wire service such as PR Newswire. It is an easy way for us to disseminate news to the business community."
"Our agency has used Business Wire as a distribution channel for press releases for our clients. Our agency is a full-service marketing agency, so Business Wire is used by the PR department. It's used when a client needs a wire service for distribution of company news in a way that drives SEO, attaches to a stock symbol, or creates general awareness."
Which Press Release Service Should You Choose?
CISION PRWeb and Business Wire offer successful PR programs, and both have excellent uses. However, in our opinion, CISION PRWeb has some distinct advantages that make them the best press release distribution company.
However, if you're still unsure which is best for your particular needs, let's look at some scenarios that might help you decide.
You want to focus your efforts on search engine optimization (SEO) and social media promotion via Twitter to increase your website's visitors.
You need to promote your release to broadcast media (television, radio, global newswires) and don't mind paying more for these features.
Frequently Asked Questions
Why are press releases limited to 400 words?
A standard one-page release has a limit of 400 words. While your release might be longer, you will pay extra for any word-count that exceeds 400. It is advisable to keep your press releases under the 400-word limit because this is the industry standard.
Longer press releases may not get sufficient readership (many ignore a second page) to justify the higher costs of using them. For a more powerful press release, use an active voice when writing the content; keep it short and to the point.
Which company is more well-established, CISION PRWEB or Business Wire?
Both of these companies are well-established, with a long history dating back to the 1960s.
What if I need to send out a press release for legal compliance issues?
Besides using press releases for promotional purposes, another important use is for companies to release information as required by law and to mitigate any liability risks. Companies that operate in more than one jurisdiction or globally must follow the legal requirements for each jurisdiction. They must comply with the laws where they operate and make sales.
Public companies must follow specific disclosure rules. A press release campaign for certain public statements, which is legally-vetted by a competent attorney to achieve compliance with regulations, is a vital strategy for a public company. For these compliance issues, Business Wire is superior. Business Wire has a more extensive global distribution system than CISION PRWeb. This distribution, which includes broadcast media outlets, is also one of the reasons that using Business Wire is more expensive.
How often can I send out press releases?
Send out releases as frequently as you like, as long as the content is unique and somewhat newsworthy. Sending out repetitive press releases to the same distribution lists, which cover the same topic, is counter-productive.
Getting Internet and media attention is valuable and, for this reason, public relations and advertising agencies send out press releases continuously for their clients. This is a non-stop, 24/7 business. Bulk pricing is available for agencies and organizations that send out a large volume of press releases.
What is the best press release distribution service?
The best press release distribution service depends on your goals. A reputable company will provide you with a press release service that provides superior writing and distribution capabilities. A company that can provide excellent customer support and that can customize its services to meet your individual needs is also an excellent choice.
What is a press release distribution service?
A press release distribution service can send out your news releases to several different media sources. They specialize in putting together customized news releases, and the news distribution company will take care of mailing, faxing, and even printing your materials so that you don't have to worry about them.
A PR distribution service will usually charge more than you would pay to have a professional write your release, but you end up saving money in the long run because a reputable service will mail your materials for less than you would pay a professional business to do the same thing.
How do I distribute a press release for free?
Many people ask this question and want to know how to distribute a press release for free, especially if they have just developed a new product. In order to distribute a press release for free, you write the press release and distribute it yourself. Be aware, however, that this free method may cost you more in time than it is worth.
Are press releases worth it?
Press releases are a great way to get the word out about your product and business. Whether it is worth it depends on your unique business needs. It is best to put together a marketing strategy that incorporates a press release plan.
How do you distribute a press release locally?
Begin by writing a press release for your local audience. Once you have done this, reach out to local news outlets to discuss getting your news published. The better written your press release, the better your chances of getting it broadcasted locally.
Why do companies issue press releases?
Why issue a press release? You might think that a simple press release is all that you need to do in order to get the word out about your new product or service. However, that's not the case.
If you want to ensure that your press release is picked up and distributed, you need to make sure that you follow a number of important steps to ensure that your press release has the best chance of success.
Any company that wishes to issue a press release should follow these steps:
Write a great press release.
Reach out to media outlets that your customers are connected with.
Ensure your press release gets published.
Are press releases outdated?
Since press releases are still used routinely and are a major component of online marketing, it is fair to assume that they are still important and relevant today.
How do I make my press release stand out?
In our experience, press releases are written, distributed, and edited with the same attention to detail as any other magazine or newspaper story.
In addition to this attention to detail, a successful press release must generate attention and stand out. The best way to accomplish this is to study other press releases and determine how you can make yours unique. Find inspiration from those who were successful before you.
Recommended articles
5 Tips for Maximizing Your Press Release Distribution