CISION CISION PRWeb is a press release distribution service for businesses looking to spread their news through various news outlets to improve positioning in the marketplace, manage brand awareness, improve reputation, and increase sales. Read this review and discover more.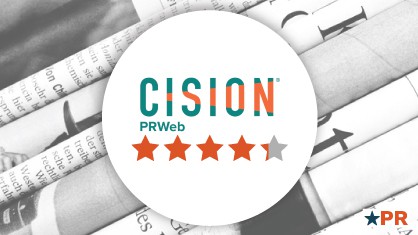 ---
BEST PRESS RELEASE SERVICE: eRELEASES
We recommend eReleases because they offer affordable, high-quality press release services tailored to entrepreneurs. Click below to save 30% on your press release today.
---
Our Review of CISION PRWeb
After spending many hours reviewing the best press release distribution services, we like CISION PRWeb because it offers some of the best distribution services. Some of the things we like include:
Low-priced packages
Search engine optimization (SEO) services
Wide online distribution network
Stay with us as we reveal CISION PRWeb's products, run through the features and benefits, and weigh the pros and cons of partnering with them. We'll also look at some customer reviews.
Read our Best Press Release Distribution Service 2021 review to find the right press release distribution for your business's specific needs
Our Approach
Selecting the best distribution for your business comes down to four things:
Business needs
Products and services offered
Affordability
Reputation and track record
Snapshot of CISION PRWeb's PR Services
CISION PRWeb offers four distribution packages. Each package offers different services and are priced accordingly.
Pricing for these packages ranges from $99 to $389, so the pricing isn't out of reach and is quite affordable. However, CISION PRWeb has mixed customer reviews that cause it to fall back a little on our list. It still makes the cut for its price and value, and we feel it's still worth checking out.
CISION PRWeb Services and Pricing
Basic ($99) — Permanent hosting of a single PR publication on the CISION PRWeb website to increase web visibility on Google, Bing, and other search engines.

Standard ($189) —Syndicate a PR publication on hundreds of media platforms and permanent hosting of a single PR piece on the CISION PRWeb website.

Advanced ($289) — Email your PR publication directly to industry-focused influencers, permanent hosting of a single PR piece on the CISION PRWeb website, and syndicate a press release on hundreds of media platforms.

Premium ($389) — Distribute your PR publication to industry-curated Twitter feeds and influential blogger networks, email it directly to industry-focused influencers, permanent hosting of a single PR piece on the CISION PRWeb website, and syndicate a press release on hundreds of media platforms.
Features and Benefits
The main thing businesses want from a press release distribution service is a wide distribution network where it will stand a better chance of being published.
CISION PRWeb offers features businesses need, including:
Excellent SEO services (get traffic to your website)
Wide distribution network (loads of press coverage potential)
Transparent pricing (low prices retain customers)
Online distribution (spread your news digitally)
Publication on the CISION PRWeb website (backlinks back to your website)
Pros and Cons of CISION PRWeb's Services
Pros
Wide syndication
SEO services
Fair pricing
Real-time analytics
Cons
No writing services
Platform is buggy
No regional distribution
The basic plan offers little value
How to Submit a CISION PRWeb Press Release
Pay a visit to CISION PRWeb
Click on "Create a Free Account & Get Started"
Select a package
Check out
CISION PRWeb's Customer Reviews
Measuring reputation is done by looking at reviews of actual CISION PRWeb customers. Here are some reviews taken from the SiteJabber website:
"CISION PRWeb is an excellent service. Used it in a marketing/PR fashion and was pleasantly satisfied with my results. Multiple pick ups from large media outlets and exposure. Website traffic rose and our overall presence in the market rose immensely. I highly suggest using CISION PRWeb!"

— Rob C.
"I have been using CISION PRWeb for quite some time. I think they provide the best ROI. I leverage my distribution list and their ability to get good SEO to max my exposure."

— Rob L.
"Used this one for business purposes. They offered press release distribution to a variety of online publications. The press release did get a good distribution, but I wish I have discussed the exact publishers beforehand as not all of my expectations we met. However, all in all, quite a decent service."

— Kira S.
"They have "editors" who want to nitpick everything that is written; and it is a waste of time dealing with them or CISION PRWeb itself."

— Timothy N.
Final Thoughts
We like CISION PRWeb because it offers great digital SEO distribution solutions for businesses. It provides distribution services that work for small budgets, starting at just $99 per press release.
However, the downsides to CISION PRWeb's distribution services are that its platform has been reported to be a little buggy, and it does not distribute regionally.
CISION PRWeb also doesn't do any writing, so you should check out eReleases or SiteTrail if you'd like a more complete distribution solution.
Need press release writing services? Check out eReleases and SiteTrail — both offer writing and press release distribution at affordable rates.
Press Release FAQs
How do I write a press release?
The easiest way to write a press release on your own is to use a template and modify it. You can use the instructions below to help guide you.
PR writing instructions:
The main thing to focus on is the headline. It should capture the reader instantly.
Next, write your lede statement or the first sentence. It should explain the entirety of your news.
Structure the next couple of paragraphs in order of importance.
Finish off by affixing boilerplate ("about us") text followed by your contact information.
It is important to include the date your press release was created. Doing this will help the journalists and news outlets know the best time to report on the news. For more information on how to write a press release, check out our guide, which walks you through the entire process step by step.
What is a press release?
Press releases provide information to news outlets about a company. The purpose of writing a press release, or news release, is to inform readers of an event or issue and to draw their attention to the story.
The purpose of this type of writing is to entertain, subtly influence, and persuade. Avoid coming off as sales-like.
If you want your press releases to go viral, you'll need to make sure that the information you provide has a strong enough call to action. Readers will be curious about what you have to say and spread the news about your business.
How do I send a press release?
Sending out a press release can be complicated and time-consuming. Most businesses opt to outsource to a service like eReleases. These companies specialize in writing and distributing to a wide audience.
If you do decide to distribute your news release yourself, you'll need to contact each and every media outlet, inquire about how to submit your press release for publication, and follow their instructions. It will help to follow their instruction carefully, this will increase the chances of your PR will being reported on.
How do I format a press release?
The best way to approach formatting a press release is to use a template. Using a template will help to make sure you format the document correctly and save on errors.
If you want us to walk you through the proper press release format, check out our guide on how to write a press release.
Related Articles