Looking for the best press release distribution service for your business? Find out whether EIN Presswire or IssueWire is the best option.
Discover how they measure up in this side-by-side comparison review as we look at pricing, ease of use, features, and their customer services.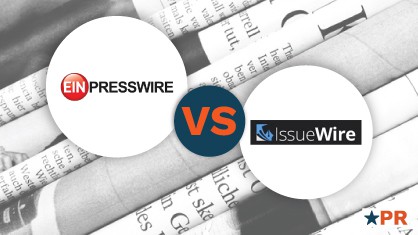 ---
BEST PRESS RELEASE SERVICE: eRELEASES
We recommend eReleases because they offer affordable, high-quality press release services tailored to entrepreneurs. Click below to save 30% on your press release today.
---
EIN Presswire vs. IssueWire: Which is Better?
Before we dig into this review, let's first outline which is the better overall deal.
While EIN Presswire charges $ 49.95 for its basic package, IssueWire will do it for free as they give a welcome bonus of one press release for new members. Go with EIN Presswire (the winner) to get better outreach and choose the one that has the best distribution.
If you want the best press release distribution service visit EIN Presswire.
If you want to get distribution services and don't mind reaching out to just few people visit IssueWire.
Read our Best Press Release Distribution Service 2021 review to find the right press release distribution for your business's specific needs.
What Does EIN Presswire and IssueWire Have in Common?
By all accounts, both EIN Presswire and IssueWire have quite a bit in common.
Here is a list of some of their commonalities:
Price: Both basic packages are relatively different in price.
Ease of Use: EIN Presswire and IssueWire have user-friendly sites, making it easy to distribute a press release.
Features: Both companies offer additional services that makes it easy to reach out to a lot of people. These include SEO enhancements, digital distribution, and subscribing journals.
Customer Service: Both EIN Presswire and IssueWire have a customer support network that can answer difficult questions and walk you through the process of distributing your press release.
Side-by-Side Comparison
EIN Presswire: Prices
Basic $49.95
Pro $249
Pro + $399
Corporate $999
IssueWire: Prices
Free Option
Tier 1 Option: $21(1PR) – $1860 (200PRs)

Tier 1 offers more features than the free option
Prices vary depending on how many press releases you want to distribute

Tier 2 Option: $45(1PR) – $3000 (200PRs)

Tier 2 offers more features than the Tier 1 option
Prices vary depending on how many press releases you want to distribute
EIN Presswire: Ease of Use
How to distribute a EIN Presswire press release:
Pay a visit to EIN Presswire
Click on "Pricing"
Select a package
Pay for it.
Submit your press release.
IssueWire: Ease of Use
Pay a visit to IssueWire
Click on "Pricing"
Select a package and pay
Submit and get your release approved
EIN Presswire Features
One press release will be published by 100+ news and media sites including the ABC, CBS, NBC, and FOX networks.
The Industry's Strongest Network. It has one of the strongest network in the industry, up to over 330,000 publications, 900,000 journalists, and 90 million social media influencers around the world.
Improve Your Website's SEO Ranking. Go viral by distributing your press release to industry-curated Twitter feeds and influential blogger networks
Increase release visibility in relevant search results across major search engines – Google, Yahoo!, Bing, etc. – by permanently hosting your press release on PRWeb.com
Earn media coverage by emailing your press release directly to relevant, industry-specific influencers.
Distributed through the World Media Directory Based on Relevance
Distributed to U.S. TV/Radio Based on Relevance
Twitter & Facebook Posting
Placement on Major News Sites (Google News, Bing News)
Same Day Distribution
IssueWire Features
Distribution to Google, Yahoo, Bing, Google News, Apple News,
Featured on premium news networks like; ABC, NBC, CBS, FOX NEWS.
Distribute on the company's website
Promote to target audience
Shared on IssueWire social profiles
Get notification of publication
Distribute PR according to client's schedule
Writing services
Up to 6 Anchor texts in your press release
Embed YouTube Video
2-tier editorial process from Accesswire
Detailed Analytics report
Insert up to 5 images
Ad-free PR
A PDF version of PR
social Sharing Enabled
Mobile distribution
PR performance report
Customer Service
Both EIN Presswire and IssueWire exhibited diligent customer service when we reached out to them. Though EIN Presswire offers only email support, the support was very helpful and they assisted us to understand their services.
EIN Presswire
EIN Presswire offers email support and phone support.
To reach them by phone: +1 (202) 335-3939
To reach them by email: Visit their website and click on "Contact ." You'll be prompted to contact page.
IssueWire
IssueWire offers phone and email support .
To reach them by phone: Dial 888-776-0942
To reach them by e-mail: Visit their blog and click on "contact" You'll be prompted to e-mail address: info@issuewire.com
Customer Reviews
Here are some customer reviews for EIN Presswire and IssueWire from trustworthy third-party online review sites.
EIN Presswire
Painfully there are no reviews for EIN Presswire on any of our legitimate reviews platform like; Trustpilot, Chamber of Commerce, Site Jabber that are written by customers who have used EIN Presswire to help spread the news about their business. The only customer review was posted on EIN Presswire website:
"A positive experience from day one. We've seen great exposure and reach in the markets we service along with increased website traffic. We also enjoy, free of charge, the ability to add keyword links, social media profiles, and an embedded quote to each release. There is no comparison to EIN Presswire in the market."

—Hermetic Solutions Group.
"A prompt and competitive press release distribution service. The interface is intuitive and easy to use. The scheduled press releases are always on time, even on short notice. As it should be."

—Aicue LLC
"EIN Presswire's Corporate Package is the best value online for sites that need SEO. We put out a new press release every week with 3-5 links to our web pages. Our experience is that we will get about 20 unique IP's links to our web pages for each release. In addition, we have been fortunate enough to have our press releases become picked up as articles in USA Today, NYT, PC Mag, and most recently Forbes. Paid EIN press releases are a bargain that is well worth the effort. Thank you so much for this valuable service."

—CompanionLink Software, Inc.
IssueWire
Listed below are some legitimate reviews from the Trustpilot website written by customers who have used IssueWire to help spread the news about their business:
"I had a small issue with my article, and the great team at Issuewire resolved it immediately. Issuewire's team are the utmost professionals that can resolves issues quickly and efficiently and do so very courteously. Outstanding customer service in an all around great company! I highly recommend their services."

—Laura Jenney
"Only used Issuewire for the first time this week and so far have had good results with the Tier 1 package of theirs. Live chat support was pretty quick to answer on how long until my Press Release goes live. Overall really great experience with these guys. Would recommend.

—Samuel Smith
"On their website, they clearly say that new users are granted a free, tier 1 press release. That means that the press release is submitted to Google News, submitted to 150+ sites, featured on Apple News, and much more. After submitting my first press release, it turns out none of these premium features are included with the first free press release and you still have to pay the normal fee. This kind of manipulative marketing is one of the reasons why so many PR distribution services have a bad rep.

I don't know if Issuewire is a SCAM or not, but let's say they won't be enjoying my business, ever."

—Jeff
Which Press Release Service Should You Choose?
EIN Presswire and IssueWire offer almost the same as far as distribution is concerned though EIN Presswire have a bigger spread, and both have easy submission avenues. However, in our opinion, EIN Presswire has some distinct advantages that make them the best press release distribution company.
However, if you're still unsure of which is best for your particular needs, let's look at some scenarios that might help you decide.
You don't mind having only distribution without writing of the press release, obtain SEO enhancements and gain wider circulation to ensure the content of your release is intact and reach every media outlet.
You need help writing your press release and don't mind paying less for basic packages and much more for higher end packages for bigger distribution while gaining several more extras.
Frequently Asked Questions
Do both EIN Presswire and IssueWire offer writing services?
No. Only IssueWire offers press release writing services while EIN Presswire offer some extras like SEO enhancements which was just added to their service and brand awareness. If you choose EIN Presswire, you will have to hire a writer for the press release or do it yourself.
Who charges more for its basic package EIN Presswire or IssueWire?
While IssueWire only offers its basic package for free for new members and $21 for its old members. EIN Presswire accepts $49.95 for its lowest package IssueWire charges a little more but they also provide other services. EIN Presswire is more likely to be picked by top media outlets.
Do both EIN Presswire and IssueWire allow online submissions?
Yes. They both offer online submissions to make it convenient for their clients to submit and pay for the press release.
Does EIN Presswire or IssueWire have the more expensive higher-end package?
Both offer higher end packages, however, IssueWire have the higher-end most expensive package based on their extensive coverage, which is called the Tier 2 (200 press release) valued at $5700. The most expensive package on EIN Presswire have the higher-end most expensive package based on their extensive coverage, it is valued at $999 called the Corporate package it gives exclusive worldwide attention.
Do both EIN Presswire or IssueWire allow you to submit pictures for your press release?
Yes. EIN Presswire do allow picture to be added to the press release but it is limited to just one and a higher package. .IssueWire similarly, allow pictures to be added to the press release and other multimedia recordings.
What is the best press release distribution service?
The best press release distribution service depends on your goals. A reputable company will provide you with a press release service that provides superior writing and distribution capabilities. A company that can provide excellent customer support and that can customize its services to meet your individual needs is also an excellent choice.
What is a press release distribution service?
A PR distribution company can send out your news releases to several different media sources. They specialize in putting together customized news releases and the news distribution company will take care of mailing, faxing, and even printing your materials so that you don't have to worry about them.
The distribution services usually charge more than you would pay to have a professional write your release, but you end up saving money in the long run because a reputable service will mail your materials for less than you would pay a professional business to do the same thing.
How do I distribute a press release for free?
Many people ask this question and want to know how to distribute a press release for free, especially if they have just developed a new product. In order to distribute a press release for free, you write the press release and distribute it yourself. Be aware, however, that this free method may cost you more in time than it is worth.
Are press releases worth it?
Press releases are a great way to get the word out about your product and business. Whether it is worth it or not depends on your unique business needs. It is best to put together a marketing strategy that incorporates a press release plan.
How do you distribute a press release locally?
Begin by writing a press release for your local audience. Once you have done this, reach out to local news outlets to discuss getting your news published. The better written your press release, the better your chances of getting it broadcast locally.
Why do companies issue press releases?
Why issue a press release? You might think that a simple "press release" is all that you need to do in order to get the word out about your new product or service. However, that's not the case. If you want to ensure that your press release is picked up and distributed, you need to make sure that you follow a number of important steps to ensure that your press release has the best chance of success. Any company that wishes to issue a press release should follow these steps:
1. Write a great press release.
2. Reach out to media outlets that your customers are connected with.
3. Ensure your press release gets published.
Are press releases outdated?
We get a lot of questions about this in our inbox every time we mention or talk about press releases. Since they are still used so commonly and are a major component of online marketing, it is fair to assume that they are still important and relevant today.
How do I make my press release stand out?
We're frequently asked how to make a press release stand out. In our experience, press releases are written, distributed, and edited with the same attention to detail as any other magazine or newspaper story.
In addition to this attention detail, a successful press release must generate attention and stand out. The best way to accomplish this is to study other press releases and determine how you can make yours unique. Find inspiration from those who were successful before you.
Recommended articles
5 Tips for Maximizing Your Press Release Distribution