eReleases is a press release distribution service for businesses looking to spread their news through various news outlets to improve positioning in the marketplace, manage brand awareness, improve brand reputation, and increase sales. Read this review to discover more.
Don't just take our word for it, check out eReleases and explore their writing services and all they have to offer.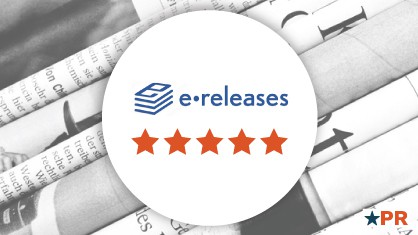 ---
SKIP AHEAD TO
---
Our Review of eRelease
eReleases tops our 2021 list for best press release distribution services! We've reviewed the best PR services on the market and found eReleases to be one of the top choices. It offers many great features, fair prices and pr exposure that businesses want.
eRelease' services includes:
Excellent writing and distribution.
Low-cost packages.
Awesome customer ratings and reviews.
Read on as we reveal eReleases' products, run through the features and benefits, and weigh the pros and cons of partnering with them.
Read our Best Press Release Distribution Service 2021 review to find the right press release distribution for your business's specific needs.
Our Approach
Selecting the best PR Service for your business comes down to four things:
Business needs
Products and services offered
Affordability
Reputation and track record
Snapshot of eRelease' PR Services
eReleases offers three distribution packages. The main difference between these three packages is the amount of words each offers. The pro package offers a service called PRTruePitch™, which is a premium service where eReleases hand delivers your press releases to influencers.
Pricing for these packages ranges from $299 to $599, meaning the pricing isn't out of reach and is quite affordable. eReleases has a lot of positive customer reviews, which makes it an easy choice to recommend to you.
eReleases Services and Pricing
Buzz Builder ($299) — Submission of 400-words to a considerable number of media channel outlets. Customers receive proof of delivery, circulation among 100,000+ journalists, and distribution to one industry or locally targeted list.

Newsmaker ($399) — Submission of 500-words to a considerable number of media channel outlets. Customers receive proof of delivery, circulation among 100,000+ journalists, and distribution to two industry or locally targeted lists.

PR Pro ($599) — Submission of 600-words to a considerable number of media channel outlets. Customers receive proof of delivery, circulation among 100,000+ journalists, distribution to three industry or locally targeted lists, and PR True Pitch targeted distribution services.
Features and Benefits
The main thing businesses want from a press release service is a wide distribution network, meaning it'll stand a better chance of making the news. Businesses want the best writers, this improves the chances that they are picked up by journalists and news outlets. Beyond this, everything else is icing on the cake.
eReleases offers the features businesses need, including:
Wide distribution network (loads of press coverage potential)
In-house editorial staff (the best writing)
Search engine optimization (SEO) (get traffic back to your website)
Picture and video inclusion (don't just tell the news, show it)
Transparent pricing (low prices retain customers)
Pros and Cons of eReleases' Services
Pros
Affordable services
Includes writing
Includes distribution
Include images and videos
Includes enhanced SEO services
Hands-on service (actual editors will contact you to help you through the process)
No membership fees
Distributes through CISION PR Newswire
Over 100,000 journalists and reporters in their network
Includes distribution to all major media outlets (Fast Company, INC., New York Times)
Writers that have written over 60,000 total press releases and have industry experience.
Guarantee publishing on 60+ online publications.
Distributes internationally through a 400,000 reporter network
Cons
Additional cost for international distribution
How to Submit an eReleases Press Release
Pay a visit to eReleases
Click on "Start My Order"
Decide on a package
Check out
Customer Reviews
We measure reputation by looking at reviews of actual eReleases customers. Here are some reviews taken from the Chamber of Commerce's website:
"Thank you dear friends for your efforts. We already have a huge story in Variety thanks to you getting the press release out. It's really great for us!"

—Natasha Shliapnikiff, Producer
"Actually the press release worked really well. It created a busy day… Good problem to have. Phones rang a lot this morning."

—Will Treat
Final Thoughts
After taking at at all the services and the fair pricing eReleases offers we believe eReleases is one of the best options! It provides the services businesses most need and expect and offer a wide range of useful services. Its services are affordable, and it has a positive reputation and track record of helping many clients.
Choosing eReleases is easy because it offers some of the best PR distribution services with affordable pricing options.

Press Release FAQs
How do I write a press release?
The easiest way to write a press release on your own is to use a template and modify it. You can use the instructions below to help guide you.
PR writing instructions:
The main thing to focus on is the headline. It should capture the reader instantly.
Next, write your lede statement or the first sentence. It should explain the entirety of your news.
Structure the next couple of paragraphs in order of importance.
Finish off by affixing boilerplate ("about us") text followed by your contact information.
It is important to include the date your press release was created. Doing this will help the journalists and news outlets know the best time to report on the news. For more information on how to write a press release, check out our guide, which walks you through the entire process step by step.
What is a press release?
Press releases provide information to news outlets about a company. The purpose of writing a press release, or news release, is to inform readers of an event or issue and to draw their attention to the story.
The purpose of this type of writing is to entertain, subtly influence, and persuade. Avoid coming off as sales-like.
If you want your press releases to go viral, you'll need to make sure that the information you provide has a strong enough call to action. Readers will be curious about what you have to say and spread the news about your business.
How do I send a press release?
Sending out a press release can be complicated and time-consuming. Most businesses opt to outsource to a service like eReleases. These companies specialize in writing and distributing to a wide audience.
If you do decide to distribute your news release yourself, you'll need to contact each and every media outlet, inquire about how to submit your press release for publication, and follow their instructions. It will help to follow their instruction carefully, this will increase the chances of it being reported on.
How do I format a press release?
The best way to approach formatting a press release is to use a template. Using a template will help to make sure you format the document correctly and save on errors.
If you want us to walk you through the proper press release format, check out our guide on how to write a press release.
Related Articles