NewswireJet is a press release distribution service for businesses looking to spread their news through various news outlets to improve positioning in the marketplace, manage brand awareness, improve reputation, and increase sales. Read this review and discover more.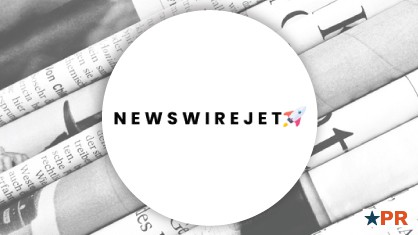 ---
BEST PRESS RELEASE SERVICE: eRELEASES
We recommend eReleases because they offer affordable, high-quality press release services tailored to entrepreneurs. Click below to save 30% on your press release today.
---
Our Review of NewswireJet
Before we get into this review, we should note that NewswireJet didn't make our 2021 list for best press release distribution services. After spending many hours reviewing the best distribution services, what we like about NewswireJet is the competitive pricing they offer along with a variety of useful features.
These services include:
Writing and distribution
Search engine optimization for all releases
Content quality review prior to distribution
Exceptional customer service that is available whenever needed
Read on as we reveal NewswireJet's products, run through the features and benefits, and weigh the pros and cons of partnering with them. We'll also look at some customer reviews.
Read our Best Press Release Distribution Service 2021 review to find the right press release distribution for your business's specific needs.
Our Approach
Selecting the best distribution for your business comes down to four things:
Business needs
Products and services offered
Affordability
Reputation and track record
Snapshot of NewswireJet PR Services
NewswireJet offers three distribution packages. Each package offers the same search engine benefits, and the last package offers professional writing services, a premium service where NewswireJet will write and distribute your press releases with little to no effort from you.
Pricing for these packages ranges from $59 to $149, meaning the pricing is highly competitive. Additionally, NewswireJet has lots of positive customer reviews which makes it easy for us to recommend NewswireJet to you.
NewswireJet Press Release Services and Pricing
News Power ($59) — Includes distribution, placement on Google News and Bing News, and at least 250 guaranteed placements. This is a good package for those who are new to press distribution services.
Buzz Power ($99) — Includes everything in the News Power package, plus at least 420 guaranteed placements and features on major news networks like NBC, FOX, CBS, ABC, and CW. This is a good package for businesses that want more coverage but that do not need writing services.
Buzz Maker Plus ($149) — Includes everything in the Buzz Power package, plus professional writing services. Buzz Maker Plus is NewswireJet's "total package" tier for those who want all of their PR handled by the professionals.
Features and Benefits
The main thing businesses want from a distribution service is a wide distribution network so that press releases stand a better chance of making the news. Businesses also want top-notch writers to draft their press releases, since this improves the chances that they are picked up by journalists and news outlets. Beyond this, everything else is icing on the cake.
NewswireJet offers a variety of features businesses need, including:
Placement in all major search engines
Discounts for multiple PR publiations
PR writing services on certain tiers
Access to premium outlets
Pros and Cons of NewswireJet Services
Pros
Distribution on all search engines
Writing services that will boost your press release and its reception
Proven track record of reliable customer service
Multiple packages to choose from, depending on your audience
Detailed analytical reports after distribution
250+ guaranteed placements with the basic package
Done-for-you package eliminates almost all work on your end
Cons
Not as well known as some other distribution companies
Writing services are only included in the top package tier
Placements are not disclosed until after distribution
How to Submit a NewswireJet Press Release
Visit the NewswireJet website
Click "Send a Release"
Fill out the sign-up form
Click "Register"
Select the package that aligns with your needs
Customer Reviews
We measure reputation by looking at reviews of actual NewswireJet customers. Here are some reviews taken from the G2 website:
"I have done a couple of releases with NewswireJet and their services has been particularly helpful in connecting with my audience each time I publish a PR on their platform. They help to review and correct any mistakes that may affect the quality of press release submitted.

Connecting with the support is not difficult and they are always available to get problems solved unlike other services that take days or a whole week to get a response from.

Overall, I will recommend them to anyone who is looking to connect with their audience without stress and on budget as well. "

—Chloe H.
"These guys handle your business like it is theirs. They go over and beyond to make sure you are satisfied. no cutting corners and no false services! I'd gladly recommend them to anyone looking to try press releases as an added option to get their businesses out there. You receive a totally personalized communication from the owners/managers and they stay with you all through. "

— Ibukunoluwa Samuel B
"NewswireJet is way above other services in terms of quality delivery and their pricing is great for the what they do as well. I particularly like the ease of support and the media placements as well"

—Agency in Information Services
"Good customer relationship, quick response to a request, and quality delivery. "

—Agency in Farming
Final Thoughts
We like NewswireJet because you receive quality distribution services for a great price. It provides discounts for multiple releases, writing services, and access to premium outlets. Their services are not as well-known, but it still has a positive reputation and track record of satisfied clients.
Overall, you should choose NewswireJet if you want superior distribution because no matter which package you choose, you will have access to numerous beneficial features.
Recommended: Choose eReleases because it offers the best press release distribution services with affordable pricing options.
Press Release FAQs
Will NewswireJet write my entire press release?
NewswireJet has a team of professional journalists that will take your story and draft an eye-catching press release with little-to-no effort on your part. With specified guidelines and expert writers, you can hand over anything from an outline to a draft and have your press release crafted. You can also opt to purchase writing services without distribution if that is something you are looking for.
Are there discounts for multiple press releases with NewswireJet?
Yes, NewswireJet is one of the few agencies that has specialized packages available for purchase. You can choose between one, two, and four-month options. Within each of these packages, you will receive anywhere from $25 to $110, depending on how many releases you wanted to be distributed in that time frame. With the multiple release packages, you will also gain access to writing support that is available in the high-end single release package.
What are the main differences between NewswireJet's main packages?
The basic package Newswire offers includes distribution to roughly 250 outlets and inclusion on all major search engines. The next package up, the Buzz Maker, includes 420 outlets along with premium media networks. The Buzz Maker also includes features on networks such as ABC, CBS, Fox, and CW. The highest package, the Buzz Maker Plus, includes all of the previous features as well as professional writing and the Done-For-You package.
What media outlets will NewswireJet distribute my press release to?
NewswireJet has access to premium outlets, including ABC, CW, FOX, and USA Today. They also have access to the Associated Press and their affiliates. Along with traditional outlets, NewswireJet will also distribute your release to search engine news sites such as Google News and Yahoo News.
Will NewswireJet provide a report for my press release?
Yes, NewswireJet will give you a detailed report after your release is distributed. This report will include live documentation about your release placement as well as user interaction. In addition to the report statistics, you will also receive a copy of all of the links where your release was distributed for easy access.
How do I write a press release?
The easiest way to write a press release yourself is to use a template. Then, modify the template to fit your needs.
PR writing instructions:
The main thing to focus on is the headline. It should capture the reader instantly.
Next, write your lede statement — the first sentence. It should explain the entirety of your news.
Structure the next couple of paragraphs in order of importance. Keep the most important fact first, followed by the next, and so forth.
Finish off by affixing boilerplate ("about us") text followed by your contact information..
It is important to include the date your press release was created. Doing this will help the journalists and news outlets know the best time to report on the news. For more information on how to write a press release, check out our guide, which walks you through the entire process step by step.
What is a press release?
Press releases provide information to news outlets about a company. The purpose of writing a press release, or news release, is to inform readers of an event or issue and to draw their attention to the story.
When writing for print media, it's important to keep in mind that print reporters and editors aren't "the general public." They are often very busy people who spend their whole day trying to gather information and get it to their readers as quickly as possible.
The purpose of this type of writing is to entertain, subtly influence, and persuade. Avoid coming off as sales-like.
If you want your press releases to go viral, you'll need to make sure that the information you provide has a strong enough call to action so that readers will be curious about what you have to say and spread the news about your business.
How do I send a press release?
Sending out a press release can be complicated and time-consuming. Most businesses opt to outsource their press releases to a press release distributor like eReleases. These companies specialize in writing and distributing press releases to a wide audience.
If you do decide to distribute your news release yourself, you'll need to contact each and every media outlet, inquire about how to submit your press release for publication, and follow their instructions. Following these steps is essential; however, it does not guarantee your press release will be reported on.
How do I format a press release?
Formatting a press release is best done using a press release template. Proper formatting is important because most news outlets will not even glance at your press release if it isn't formatted properly.
If you want us to walk you through the proper press release format, check out our guide on how to write a press release.
Related Articles